Social Parade Follow on Friday! Come Join the Fun!
3:48 PM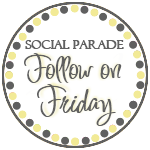 I'm participating in Social Parade Follow on Friday this week! I love new followers and I hope to meet new followers! Come join the fun and link up to meet new bloggers! I haven't done a blog hop for a long time so I'm looking forward to joining in this week!
Please follow us. Leave a comment that you are. We will then come follow you back!
Thank you everyone for following us! Please check out my giveaways located on my left sidebar!
Happy Friday!